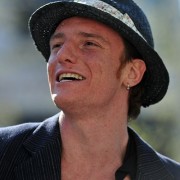 Simone Riccio first started performing contemporary circus in 1998, he has nearly two decades experience as a performer and has directed his own shows since 2011
He has previously worked with internationally acclaimed circus companies, including four years with NoFit State Circus throughout in both Tabu and Labyrinth and more recently played a leading role in La Fura Dels Baus's show Aphrodita y el Jedicio de París
Simone also has extensive experience of outdoor and street performances. His own solo performances have won various awards over the years, including; Artists of the year Strabilandia (Bellizzi), 2015, Lunathica international festival, 2014, Internationales Kleinkunstfestival Usedom(D), 2006.
Throughout the 2016/2017 winter and spring period Simone is spending his time further developing his current touring piece, UP!, and working on a new outdoor piece, On Wheels.
Simone's previous solo work includes circus/theatre show Nothing Moves If I Don't Push It which was presented at the 2013 edition of the London Inter-national Mime Festival.
Nothing Moves was directed by Aitor Basauri, and during the project Simone was able to work with professionals such as Rob Tannion and Sara Martinez and received support from Arts Council England, NoFit State Circus, and Jack-sons Lane Theatre.