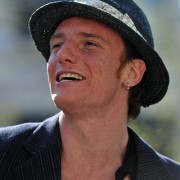 Simone Riccio is doing contemporary circus and physical theatre since in 1998.
Four years he is performing German Wheel with internationally acclaimed circus company nofitstate circus (UK) with Tabu, since the beginning of the creative process and with Labyrinth, at the Eden Project Cornwall (UK), where he had the privilege to perform a solo German wheel & juggling show as opening of the main show.
With La Fura Dels Baus in Aphrodita y el Juicio de París he play the leading role of Paris as arial-dancer and physical actor.
At the opera house Teatro San Carlo, (IT), as well with arial-acrobatics and physical theatre, he performs in Lady Macbeth of the district of Mtsensk, from Dmitrij Sostakovic, His circus/theatre solo show Nothing Moves If I Don't Push it, created in 2012 was researched and developed in Cardiff (NoFit State Circus) and London (Jacksons Lane Theatre) with the acclaimed Rob Tannion ( DV8, Circus OZ, etc.) , and supported from Arts Council England. In 2013, with the direction of Aitor Basauri (Spy Monkey), was then presented at London International Mime Festival, (UK)
Since 2013 he is touring UP! He had the privilege to perform it already over 300 times in most of the well known street arts festivals around the world – winner award "Artists of the year" at Strabilandia 2015 (IT), and second price at Lunatica international streets arts festival 2014 (IT) 
Currently he is developing his new indoor and outdoor show 8Wheels, in cooperation with Circo Vola Voilà of Rome. 
Available from April 2019