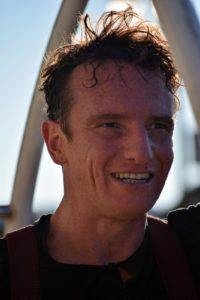 Simone Riccio is doing contemporary circus and physical theatre since in 1998.
Involve with arts since childhood works as photographer, following the steps of his father, and as director of photographer, graduating with distinction at N.U.C.T, new university cinema&TV in Rome. 
In the year 2001, when his movies career was really successful he realize that "running  away with the circus" could be a completer form of performing arts and life style.

His professional approach with the circus starts in fact immediately.
Two circus school in Europe, Carampa Escuela de Circo, in Spain, Circus Space, now know as N.C.C.A national centre of circus arts, in UK he specialize him self in German wheel, acro-balance and juggling. The German Wheel's skill defines him as professional circus artist, especially in UK and in Italy where he is now a referent point for this discipline.
In the past 20 years he perform in most of the continents, countless countries, and had the privilege to work with world-known theatre&circus companies, creating and performing his own shows. Directing and choreographing several circus and dance acts for solo-artist 
Particular dear cooperation is touring four years in Europe and Canada and performing with Nofitstate circus with "Tabu" and "Labyrinth", where he could take part since the creative process till the end of it generating a great relationship with the company.
Nofitstate Circus was also kind supporting the creation of his solo show Nothing Moves If I Don't Push it, created in 2012. The project of this show allowed Simone to work with amazing artist, Rob Tannion (DV8, Circus du Soleil etc.), Aitor Basauri (Spy Monkey) and perform in the London International Mime Fest 2012
Also nice to mention:- La Arena circus company with show "Sanos y Salvos" – "Kill your darlings" produced from Volksbhoene in Berlin – "Aphrodita y el judicio de Paris" from La Fura Dels Baus, where he play Paris – Opera house Teatro San Carlo in "Lady Macbeth of the district of Mtsensk"
Since summer 2013 he is touring his awarded show UP! – "Artists of the year" at Strabilandia 2015, in street art festivals around the world